Brighton Tattoo Convention
The Brighton Tattoo Convention is one of the world's most prestigious tattoo gatherings, attracting over 300 British and International artists to the iconic seaside town.
This year sees the convention celebrate its landmark 10th edition with its biggest event to date, welcoming a hand-picked selection of the most acclaimed tattooists in the industry as well as a plethora of independent retailers, exclusive exhibitions, live music and more.
With artists coming from all around the planet to showcase their work, the convention is the ideal place to come and be tattooed by some industry greats.
Each year over 6,000 people descend on the 2-day event to enjoy a weekend of tattoo culture and lifestyle exhibitions along with some great entertainment and for the first year a nice cold Pistonhead brew!
The 10th edition of The Brighton Tattoo Convention takes place on the 13th and 14th May 2017.
Click here to see the full list of tattoo artists exhibiting at the convention.
Also look out for this!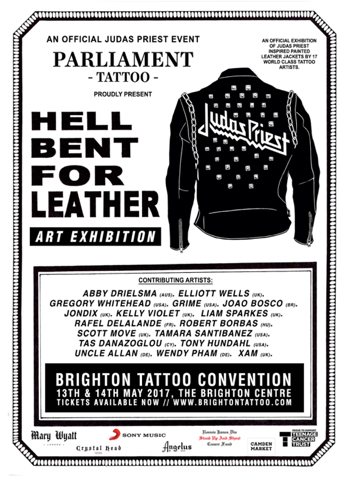 Parliament Tattoo have joined forces with the iconic metal band Judas Priest to bring you Hell Bent For Leather: An exhibition of leather biker jackets, hand-painted by some of the worlds greatest tattoo artists. The artists chosen to take part were invited to choose a Judas Priest song to inspire their artwork, and the results are outstanding.
After a short stint in Camden, London, the exhibition will come down to Brighton and join us at the convention.
Head over to the exhibition stand to see one-off artworks by world renowned artists such as Grime, Jondix, Scott Move, Gregory Whitehead and Xam, and to be in with a chance to take home a real piece of tattoo and heavy metal history – the jackets are being auctioned off online to benefit The Teenage Cancer Trust and the Ronnie James Dio Stand Up And Shout Cancer Fund.